For Cinco De Mayo we decided to take Sierra on her very first camping trip! We drove out to Green Ridge State Forest, which is my absolute favorite local camping area. We camped with Mary, her sister Lesley and husband Chuck; and of course Scout and her new friend Lacey. We had the most amazing weekend with a diverse set of experiences for Sierra.
Saturday started out mild and partly cloudy, but then rained for about an hour and a half during the late afternoon. Regardless, we then had a relaxing (dry) hike along a valley streambed before dinner. Upon our return, it was dinner for everyone and some yummy smores! and more smores! Once the clouds completely moved out (probably around 10pm) the sky lit up with stars...it was awesomely peaceful.
Saturday night was quite cold for a spring evening, mid-40's. We were all bundled up in our tents but everyone had a (fairly) comfortable evening.
Sunday proved to be spectacular! 70's and sunny as far as the eye could see. We had a leisurely breakfast, broke camp, and then went on a nice hike along a mountain bike trail.
She seemed to like hiking the best, kicking her feet and making motor boat noises and "singing" the whole time.
A truly AWESOME first time camping for Sierra!!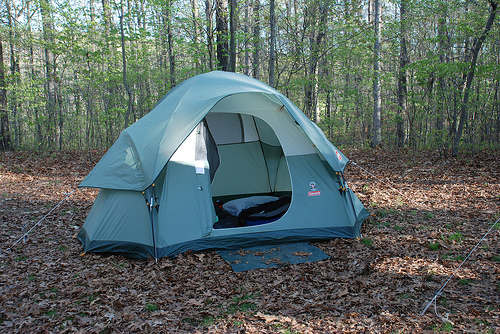 Photos:
Setting Up